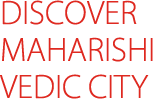 Discover Maharishi Vedic City
Down the road from Fairfield is Maharishi Vedic City (population 1,290). Incorporated on July 21, 2001, this city was inspired by Maharishi Mahesh Yogi who recommended that its development be based on the knowledge derived from the ancient Vedic literature. In Maharishi Vedic City every building, 265 in all, is designed according to Maharishi VastuSM architecture, which provides the knowledge of how to create buildings that promote harmony and balance for those who live and work in them. The city is the home to the Institute for Natural Medicine and Prevention and The Raj—a world-class Ayurvedic health spa and vegetarian restaurant. The city also has many recreational trails, parks, and lakes.
What will you find in Maharishi Vedic City?
Vedic Agriculture
Vedic Health Care
The Raj
The Rukmapura
Maharishi VastuSM architecture
Vedic Observatory
IdeaLife Campus